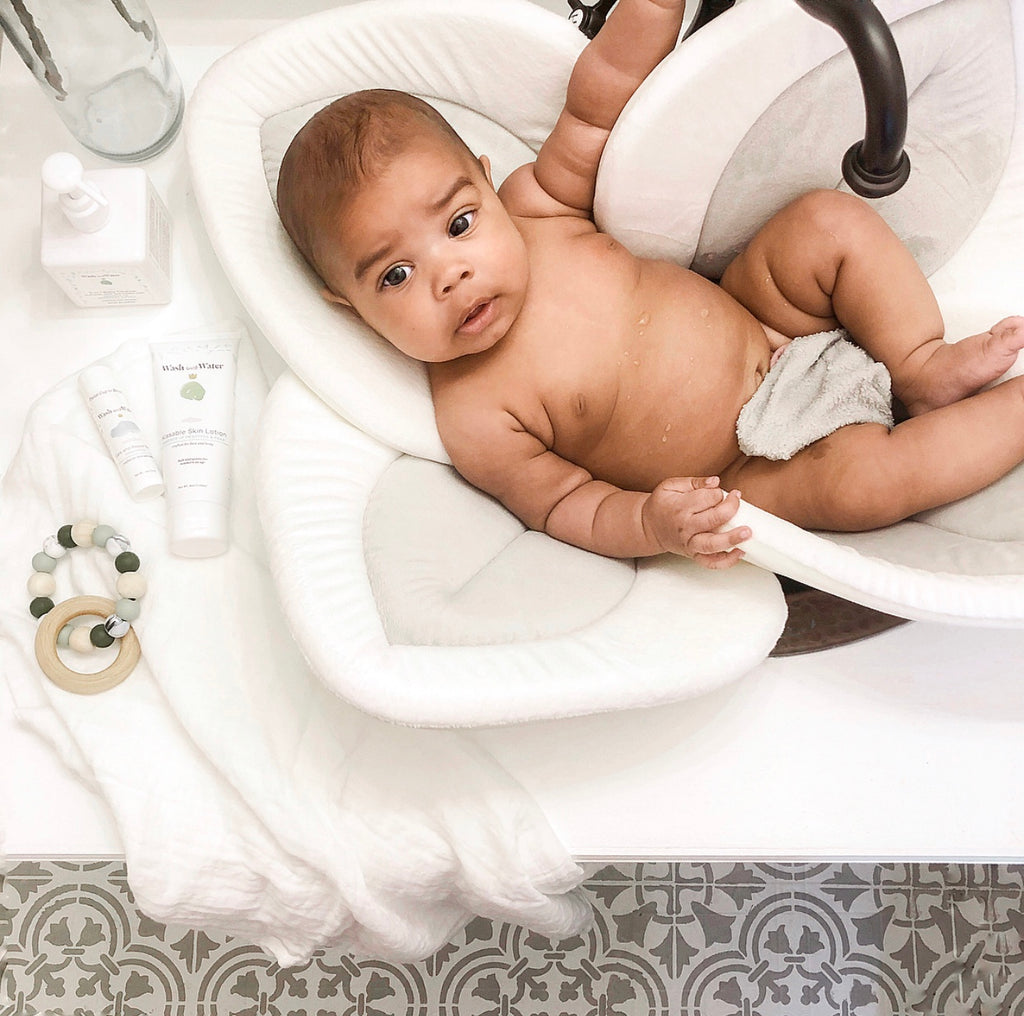 HOW TO: unlock your baby's best skin
We are all creatures of habit but when it comes to keeping a consistent step-by- step skincare regimen, many times we fall short.  So what is a "routine" referring to when it comes to keeping your skin dewy fresh?  It's all about applying the right skincare products in the right order for optimal results consistently.
Typically for babies and children, a clear skin routine should require no more than 2-3 products regardless of skin type (normal, sensitive allergy prone, etc).
STEP #1 CLEANSE
The first step is all about a gentle cleanse.  You want to work with the skin's natural pH, avoid stripping away protective oils, and disrupting the dermal balance.   A multi-tasking cleanser (shampoo, wash, and bubble bath ) like our infant cleansers is crafted from pure plant based botanicals to cleanse and protect baby from head to toe. This luxe formula leaves skin feeling soft and smooth without any residue or dryness. Specifically formulated for infants and also loved by individuals with sensitive skin.  If baby is eczema prone or has dry skin- try STEP #1 only twice or three times a week.
STEP #2 CARE & REPAIR
Next up, it's all about spoiling head to toe with skin-loving nutrients and vitamin-rich botanicals to treat and soothe any existing dry spots, rashes, or frequently rubbed areas like knees, hands, elbows, and bottom of feet. Care for your body and baby's with our organic Moroccan Argan oil healing balm; ideal for nipple balm, cesarean section and other surgical wounds, old c-section scars and stretch marks, and minor burns. 
3. Protect
Now it's time to lock in all of your hard work with a moisture rich lotion or cream. Our vitamin-rich formula with organic Moroccan Argan oil & organic Calendula provides long-lasting moisture to nourish even the most delicate skin of newborns. 
These statements have not been evaluated by the Food and Drug Administration. Our blog is for educational purposes and

 

not intended to diagnose, treat, cure, or prevent any disease. People should consult a doctor or health care provider if they feel that they need specific advice for their specific needs.