Description
Natural coconut and botanical aroma: Organic essential oils blend together for a spa-like scent that will leaving you feeling refreshed.
How to Use: Close eyes and lather onto damp skin, creating a rich handful of bubbles.
-Rinse thoroughly with warm water or wipe with a damp washcloth.
-Gently pat skin dry.
-Use daily, or as needed, to cleanse and hydrate.
PH Balanced

Kind to all Skin Types

Vitamin Rich Profile

Cruelty free

Packaging made with environmentally friendly standards. Please repurpose or recycle 
Client Reviews
Customer Reviews
03/19/2021
Angela

United States
Great product!
My husband and I love this bar soap. We use it constantly and it is our current go to!
02/17/2021
Zhanna

United States
Best product!
Amazing!! I'm so grateful for this brand! What lotion they provide the products they use. I'm in awe of it! It's all I use for my babies. Sweeatpea and me & lavender & vanilla butter are both my favorites right now! Seriously thankful!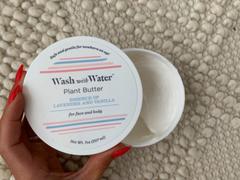 02/16/2021
Yana W.

United States
The best bar soap!
Our family absolutely loves WwW bar soap! We use it to wash hands, bodies, and even faces. It smells heavenly, cleans beautifully, and is gentle enough that I can use it on my sensitive skin (even my face!).