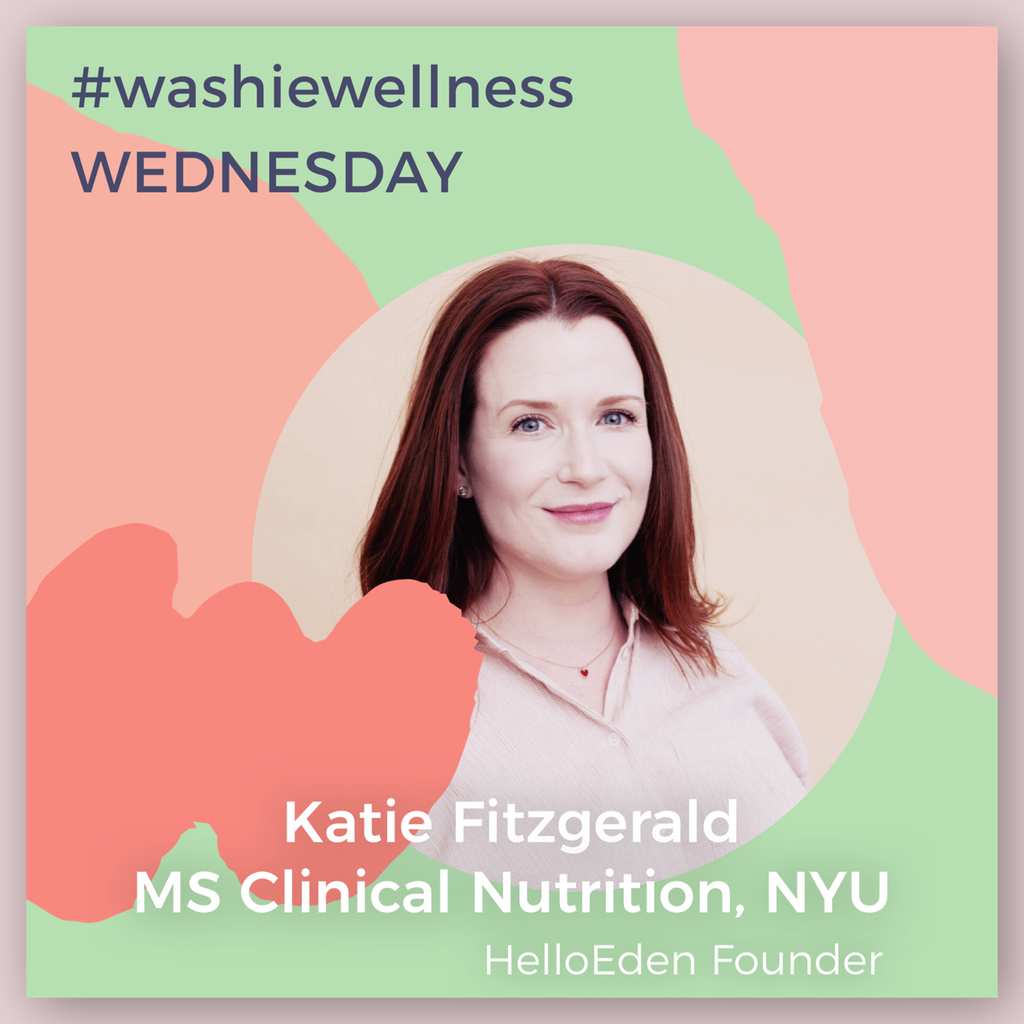 HOW TO: master hormonal balance
Celebrating dynamic women and exploring conversations that play a large role in our daily lives is what inspires me to host #WASHIEWOMAN Wednesdays on our Instagram Live platform. This week, Katie Fitzgerald MS, Nutritionist and Co Founder of HelloEden joins us to discuss improving your relationship with your hormones. When they're in balance, you become unstoppable.
ABOUT:
We want to give women the tools to honor and care for their hormones every day.
HelloEden's daily supplement gives you the nutritional foundation for hormone balance, while our content library helps you become the authority on your own hormonal health. Use code "WATER15" to receive 15% off at checkout.
How would you describe the vibe of @sayhelloeden? 
Happily hormonal is definitely a vibe.  Possessing our female hormones is a STRENGTH, not a weakness.   When you and your hormones are in sync you feel sexy, powerful, and most importantly Well.  We work hard to include messaging and images that uplift, inform, and include all different types of fierce females.
One Pinterest image that describes your brand in a visual? 
How did reproductive health become a passion for you? 
I was completely caught off guard when I was diagnosed with unexplained infertility at 30.  I had always experienced regular cycles and very little complaints in that department but that went out the window once I started fertility treatments.  Over the course of 5 years I had to fight tooth and nail to stay well and regain balance between rounds of IVF and multiple miscarriages.  It was a process that challenged me fundamentally: mind, body, and spirit but I gained invaluable knowledge along the way.  As a health professional I knew where to look for the best answers and I realized that the average woman was lacking access to resources and products that would make a difference.  HelloEden is based on the regime of supplements that I adapted before my last rounds of IVF where one promising embryo split bringing my husband and I our boys, Charlie and Owen, who just turned 20 months.
What are some possible clues that a woman's hormones may be out of balance?
Intense PMS symptoms, irregular cycles, brain fog, hair and skin disturbances, low libido, mood swings, sudden shifts in weight, and sugar cravings are the big ones to look out for.  Sure these symptoms are common, but that is not the same thing as "normal" because the body craves balance.  The key is to listen to the body when it hints towards a need instead of waiting until it screams out in distress. 
Do only women that are thinking about having to have a baby need to be in tune with their hormones?
That is one of the leading misconceptions about reproductive health and hormone balance.  Of course optimal hormone function is essential for conception, however, hormones conduct vital processes that are important to overall health every day such as the sleep/wake cycle, immune response, neurotransmission, and metabolism. 
Best under the radar tool, app, habit that maintains your sanity managing a brand and family?
I love my apps but something that saves me on a daily basis is my old school, analogue notebook.  I use one dedicated blank journal for everything.  I date each page and it's my go-to repository for meeting notes, random ideas, reminders, shopping lists, you name it.  Mombrain is so real!  I remember better when I write it down and when I don't remember I have an easy way to find it.  Also, I like to write to-do lists at the end of the day so it's on the page instead of swirling around in my head while I'm trying to rest. 
Ideal date night looks like...
Wow...remember date nights??  Quarantine date nights are homemade dinner together after the boys are in bed and snuggling while watching Netflix.
A few of your favorite items in your home? 
I have always had a thing for emerald green- I have two upholstered velvet chairs in our living room, a glossy lacquered hutch in our breakfast nook, and a vintage 1980s YSL coat in the same hue and I am happy every time I look at them.  I am devoted to my Peloton bike.  Our Bugaboo Donkey is for sure the Cadillac of baby strollers.    
Favorite way to spend a day off? 
Catching up with friends, a great work out, and cooking always make me feel grounded and energized.
What's on your bedside table?
I try to keep it as sparse as possible as to avoid bedtime distractions- a tray for jewelry and hair elastics.  My notebook usually winds up on the floor.
Three pearls of wisdom for women (and men) who are looking to achieve homeostasis (balance) during this very transitional time? 
It's really hard.  I think the first step is to get comfortable with these uncomfortable feelings and give ourselves grace in the face of so much loss and sacrifice.
Listen to your body and be gentle with your response.  If you're tired, try to sleep more if you can.  If you're feeling stagnant, move a little more.  If you're craving comfort, well then you better treat yo self.  But do not second guess or feel guilty for the solutions you attempt in an effort to feel better in an impossible situation.
Get weird.  Do something, anything to shake out a giggle.  I can't think of any hard time that a solo dance party didn't make me feel at least a tiny bit better.  
Do you have a couple of hero ingredients that you feel are under the - radar but play a significant role for HelloEden?
Vitamin D3 is essentially a hormone because it's involved in hundreds of somatic processes including synthesis of hormones.  It's my desert island nutrient!  
I'm fascinated with the human microbiome and the benefits of probiotics for gut health and overall wellness.  I even wrote my Master's thesis on probiotics.
Myo-inositol is a game changer for mood and neurotransmission.  Also it's amazing for glucose control and insulin is definitely the most overlooked hormone.
Black pepper extract- something I discovered while creating the formula.  It powers the absorbability of Vitamins A and C as well as turmeric and Ashwagandha, and it has some powerful antioxidant and anti inflammatory properties of its own.
What can we look forward to in 2021 from your brand and personal life? (Goals? New hobbies? Intentions?) 
On a personal level, I want to make more time to be social with friends...no matter what that might look like in the immediate future.  My friends are incredible people and help me remember the person I am aside from Mommy.  
Since launching our product in September 2019, we have listened to a lot of feedback.  We would love to expand our product line to target key concerns women have voiced.  Also, I'm currently in search of an app developer- I have an idea for a tool to help Moms balance work life and home life.