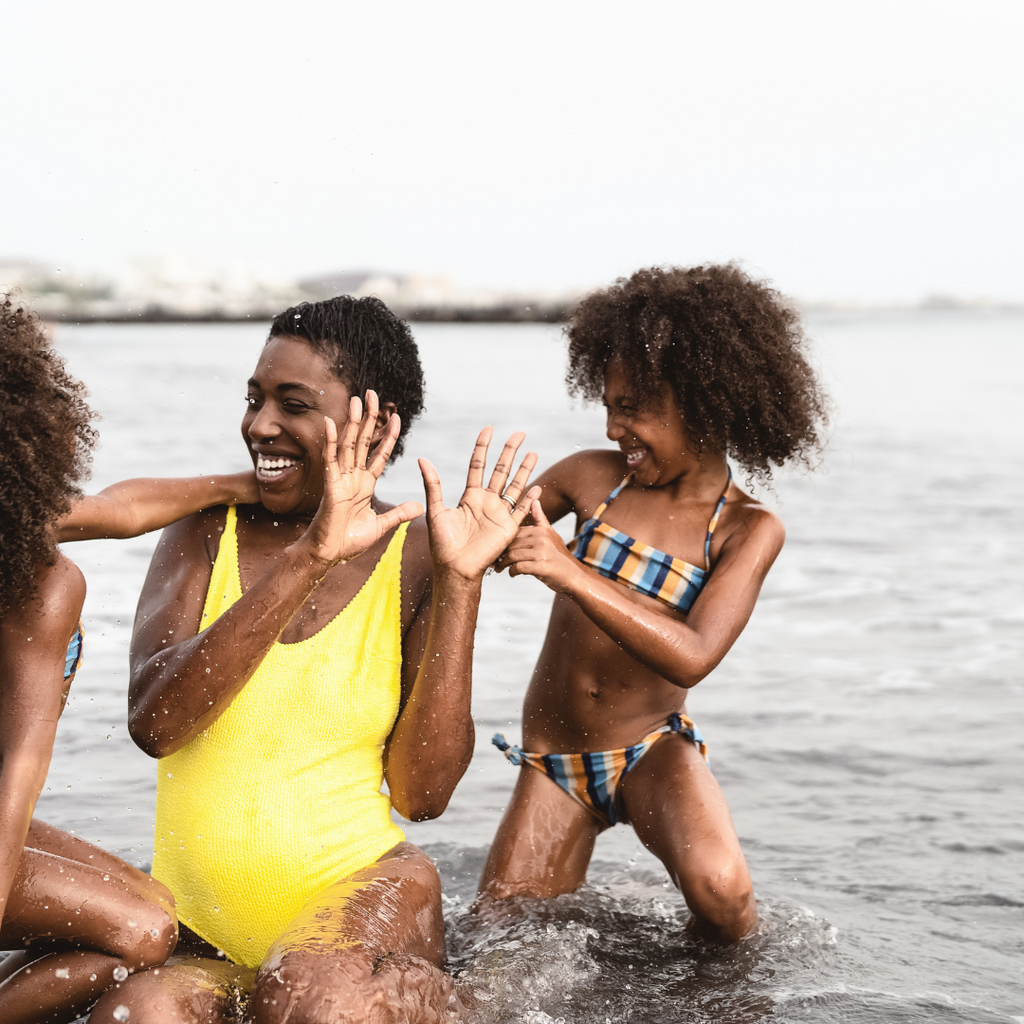 Why Sunscreen is a MUST for all skin
When I set out a decade ago to create the very best sunscreen, I had a long list of must-haves. And making sure that the final product would be a home run for all skin tones was a high priority especially as a mama with beautiful brown babies.
As people with an array of darker skin tones, we often hear the myth that our melanin-rich skin protects us from the harmful effects of the sun's rays. But the truth is, everyone, regardless of skin tone, is at risk of skin damage and skin cancer caused by the sun. In fact, studies show that black people are more likely to die from skin cancer than other ethnic groups because it is often diagnosed at a later stage. That's why it's essential for all of us to wear healthy, nontoxic sunscreen daily.
Sunscreen is not just for fair-skinned individuals. It's important to understand that people with darker skin can still suffer from skin damage caused by the sun. Although melanin provides some natural protection against UV rays, it is not enough to protect against all types of skin damage, including skin cancer. In addition, many people with darker skin tones have been turned off (rightfully so) from using sunscreen because of the white or purplish residue on their skin, but that's no longer the case with newer formulas designed specifically for darker skin tones.
When looking for a sunscreen for all shades of skin color, it's important to choose a mineral-based sunscreen that contains ingredients like zinc oxide or titanium dioxide. These ingredients work by forming a physical barrier on the skin, reflecting and absorbing UV rays, rather than penetrating the skin. They are also less likely to cause irritation and are safe for all skin types.
In addition to preventing skin cancer, wearing sunscreen can also help prevent premature aging caused by the sun's rays. It can prevent wrinkles, fine lines, and dark spots caused by sun damage. By incorporating a daily sunscreen routine into your skincare regimen, you can protect your skin and maintain a youthful, glowing complexion.
In 2023, we know wearing sunscreen is important for everyone, regardless of skin tone. Don't let the myth that darker skin, brown or black skin doesn't need sunscreen put you at risk for skin damage and skin cancer. Protect your skin by incorporating a daily sunscreen routine and choosing a mineral-based sunscreen designed specifically for black skin. Your skin will thank you!